Re-Animating Materiality Through Sound
What:
A special session devoted to looking at creative combinations of SOUND, MATERIAL, DIGITAL and ANALOGUE
When & Where:
TATE EXCHANGE, Level 5, Switch House, Bankside, London, SE1 9TG (12:00 - 17:00)
About:
The interplay of materiality and sound offers an opportunity to re-think how the creation and meaning of sound can be produced and experienced – through space, bodies, material forms and technology. 
We invite visitors of all ages and levels of experience to this session to see and hear the techniques used by  a group of artist and designers. There will also be an opportunity to try your hand at becoming a Foley artist under the guidance of Louise Brown, as well as enjoying an interactive experience of the Sound Arts from Nicola Rae.
This panel session will enliven the topic of Re-animating Materiality Through Sound with a series of lightning talks, presentations, and table top demonstrations.
After this session visitors are encouraged to visit all the other interactive events in the same space.
Who:
Sadhna Jain, Nadia- Anne Ricketts, Melanie King, David Barnett, Louise Brown, Nicola Rae, Ellen Davies
Photos from the Event :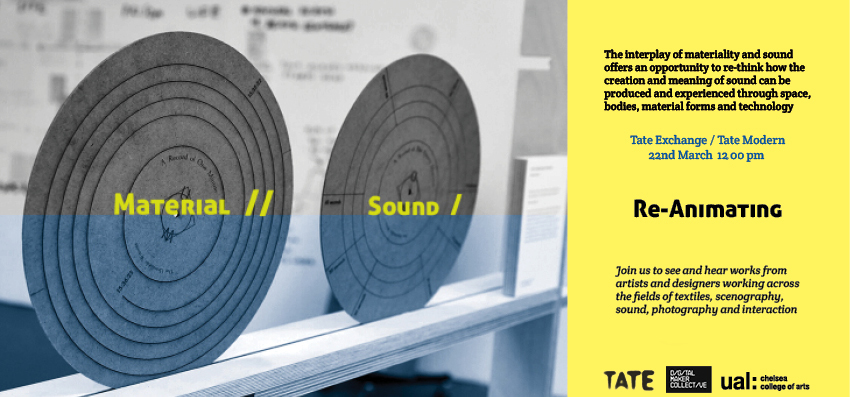 Programme Tate Exchange 22nd March 2017