Digital Maker Week 2016
Between the 16th & 20th May 2016 CCW Digital Learning, Teaching & Enhancement held its first CCW Digital Maker Week, below are a selection of images from a fantastic week which welcomed over 400+ visitors from Wimbledon to St Petersburg. The event was organised and led by students from across CCW/UAL with support of CCW staff, the UAL Learning Teaching Exchange 'Staff & Student Collaboration Fund' and SUARTS.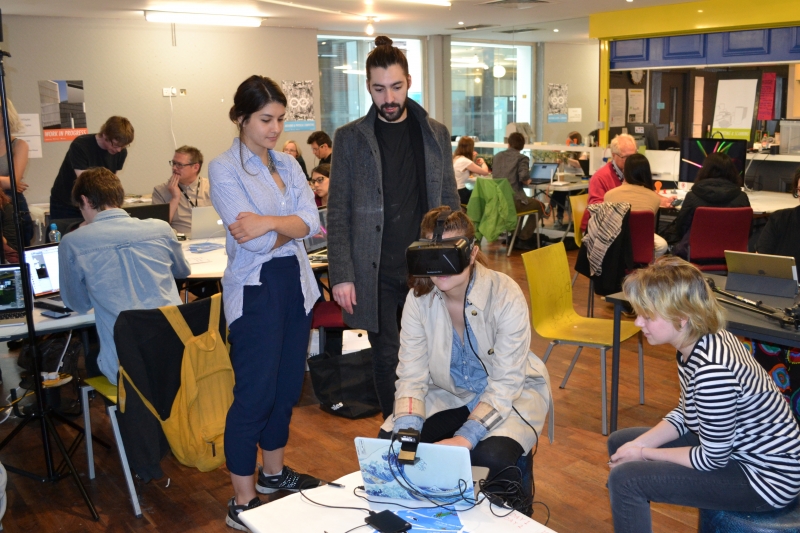 Over the past few months CCW Digital Learning, Teaching & Enhancement hosted a number of interdisciplinary interest led group meet-ups and workshops exploring collaborative practice and emergent technologies and the arts. The pilot attracted a group of over 150 staff, students and alumni, some actively engaged and others just happy to observe. The group held regular voluntary meet-ups every week of about 10-15 students & staff per meet-up as well as building collaborations with the tech industries and arts sector.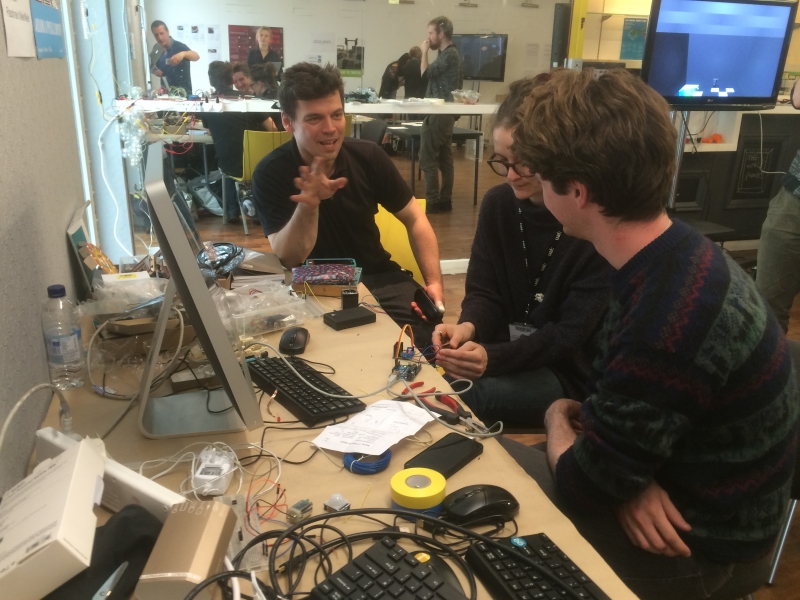 Going forward the Digital Maker Collective will continue to arrange meet-ups, exhibitions, residencies and events exploring emergent digital making practice & the arts. The collective are also part of @Tate Exchange, an exciting new project at #tatemodern launching this autumn, more details about the Tate Exchange associates programme will follow in September. Read more 'CCW Digital delighted to be part of Tate Exchange'.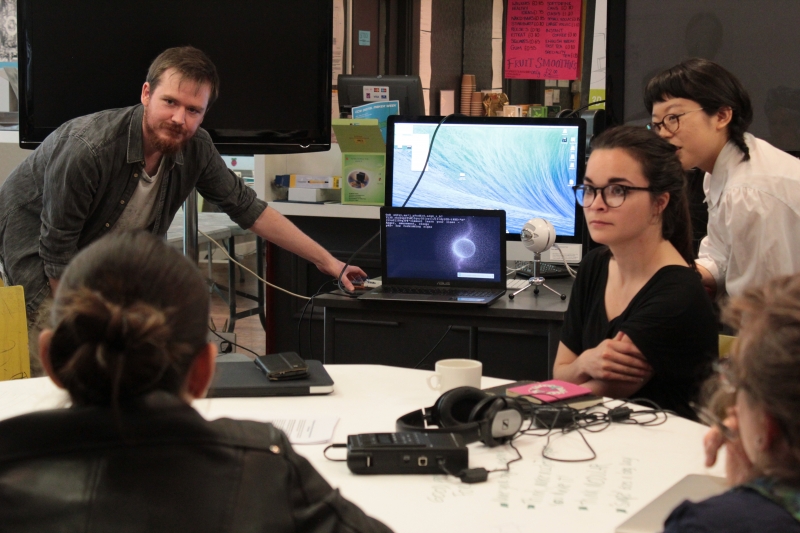 Image by lingran Yan
The main aims of the Digital Maker Collective are:
Support and share unique perspectives of digital making & emergent practice in the arts
Foster a co-produced, participatory approach to exploring digital arts learning and social engagement
New perspectives & research on the impacts of digital on the arts and the art school e.g. exploring an enquiry led interdisciplinary curriculum
Day 1 & 2: 3D Printing/3Dscanning and Internet of Things
Participants were invited to find out about 3D Printing, 3D scanning and the Internet of Things, insights provided from students, staff, industry guests & the maker movement.
Alongside the main daily theme, CCW staff, students and partners from the CCW Pop Up Digital MakerSpace shared perspectives of the other days themes including - Internet of Things, Virtual/Mixed Reality, Physical computing (interactive tech).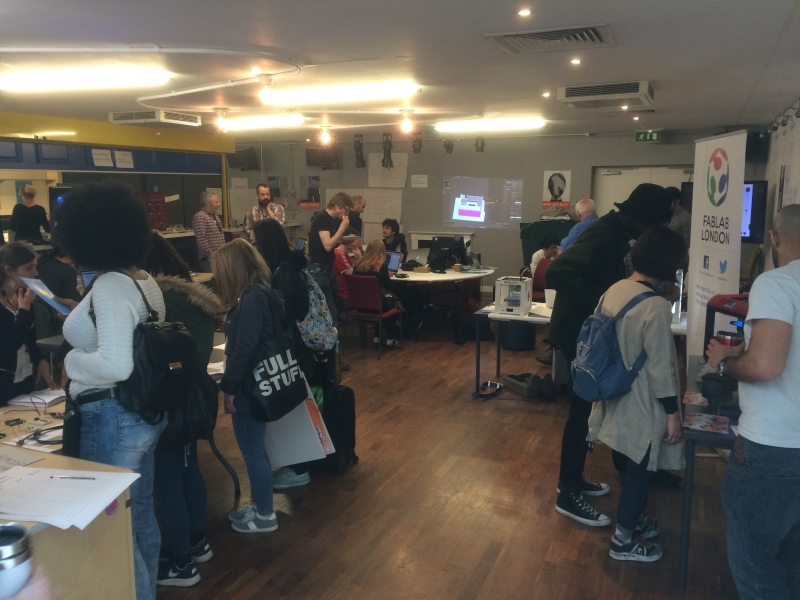 We were really pleased to be joined by Industry guests iMakr Store, the world's largest store dedicated to 3D printing, located in the heart of Central London, Clerkenwell Road. We also welcomed back FabLab London who we have been working with closely over the last few months and who took part in last years Chelsea Jam event, sharing expertise of 3D printing and the Internet of Things. And Gravity Sketch who were on hand to demonstrate their newly launched 3D drawing oPad App.
We see collaboration with arts sector, tech industries & MakerSpaces as playing an important role in our development. There are over 40 MakerSpaces in London, we have highlighted some 'digital Makerspaces' from the London Workshop Network, for more information please check http://openworkshopnetwork.com/
Poster designed by Afeefeh Abou Chaar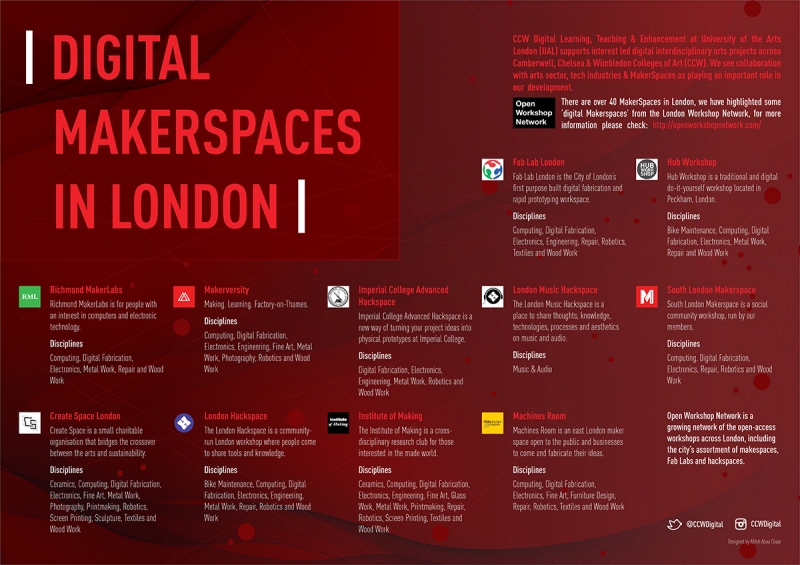 Student Projects & Alumni
Throughout the week students were working and sharing their projects including BA Fine Art students Sarah Lynch-Jones and Daniel Bandfield who were constructing an emotional AI which will react to human contact using objects, games and language. We also had two visiting Alumni Rosemary Munro Kerr (Wimbledon) uses off-grid technologies and low-tech devices to create playful, modular systems and Angelo Madonna (Camberwell) interested in physics, electricity, oscillatory motions and their relation with sound and space.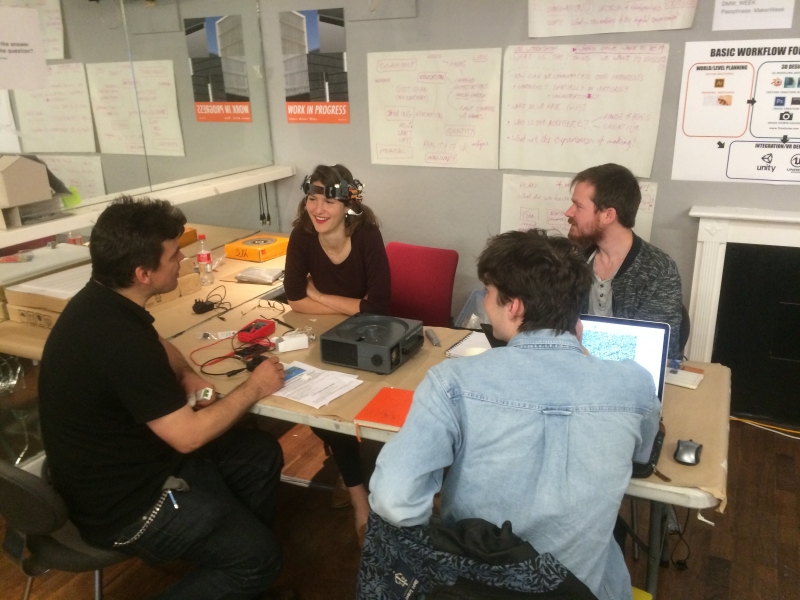 Angelo Madonna Theremin performance and workshop in the Parade Ground at Chelsea during the Digital Maker Week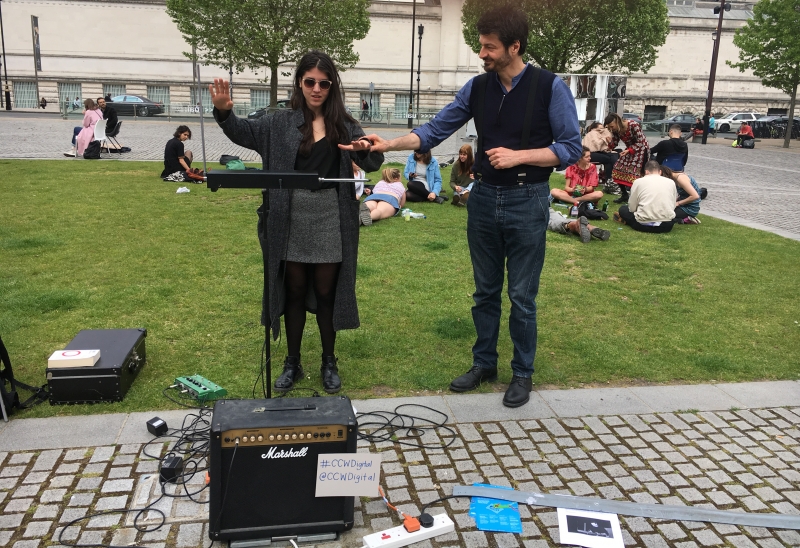 Day 3 Virtual/Mixed Reality (VR)
Virtual/Mixed Reality, insights from students & staff. Participants were invited to contribute to a collective Virtual/Mixed Reality experience as Creators, Players Characters and Spectators.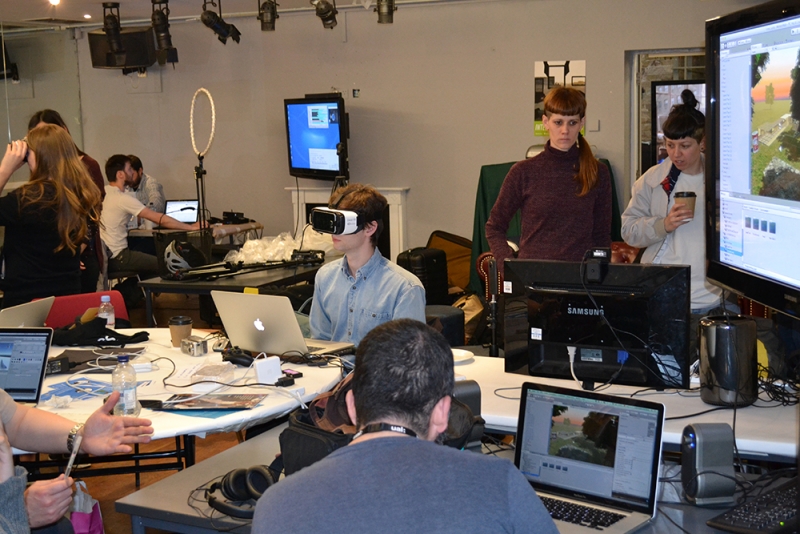 Chelsea College of the Arts Dean George Blacklock having a go of the Oculus Rift DK2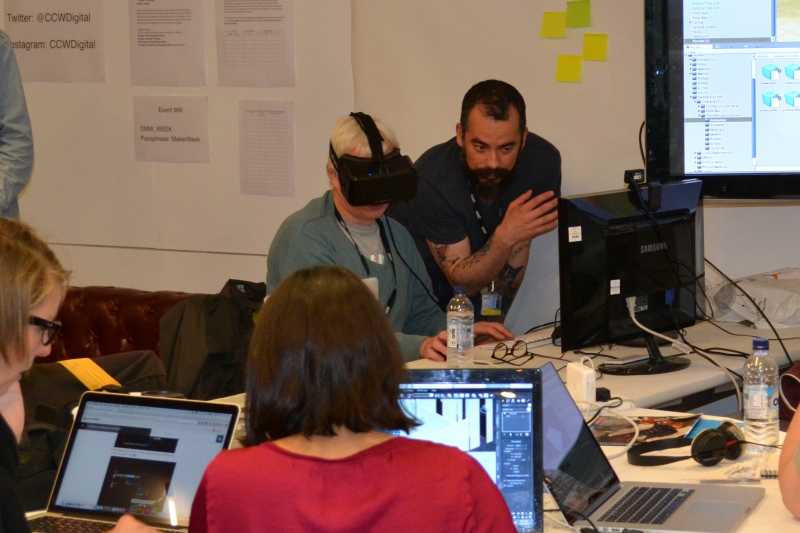 Day 4
We were really pleased to have Cyland MediaArtLab join CCW staff, students during CCW Digital Maker Week. Throughout the week artists & technicians from Cyland MediaArtLab in St Petersburg worked along side CCW staff & students, as well as supporting an online Q&A with artists in New Your & St Petersburg.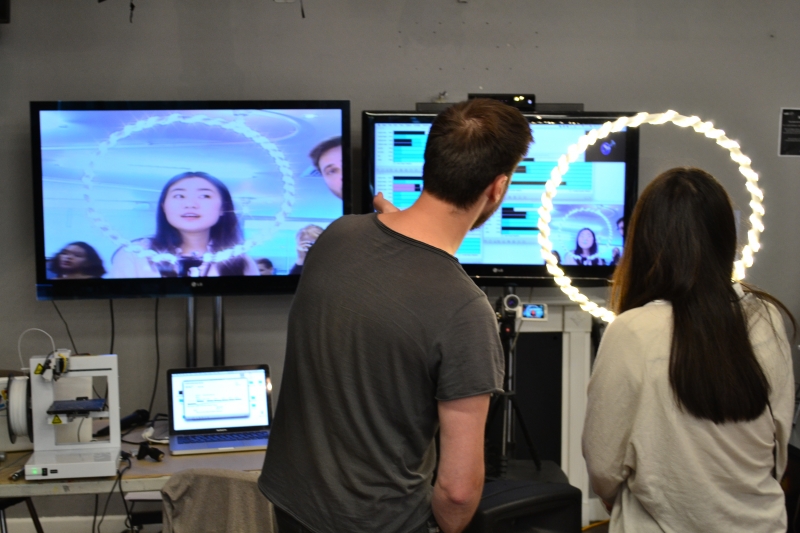 Image by Natalia Piotrowska
Day 5
Artist talk Freud Museum and 3D printing works by Paul Coldwell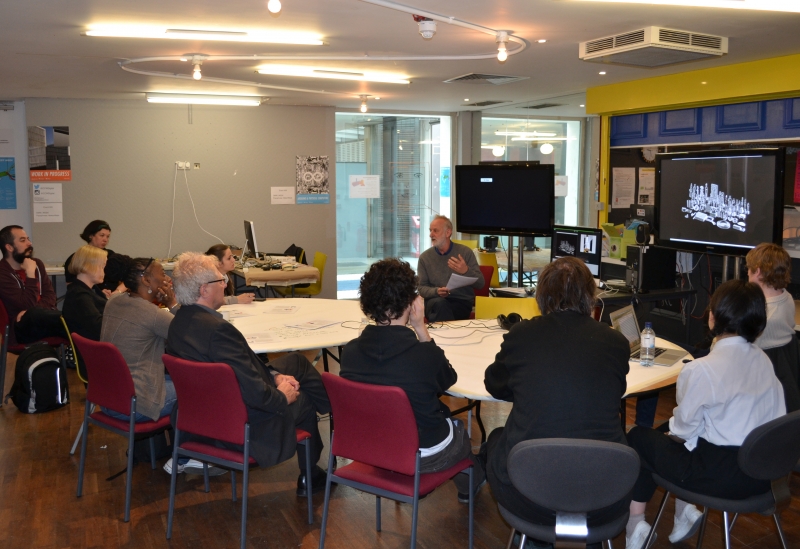 Student-led, cross course, year critique & debate digital technologies in art & design. If Technology is the Answer, What is the Question?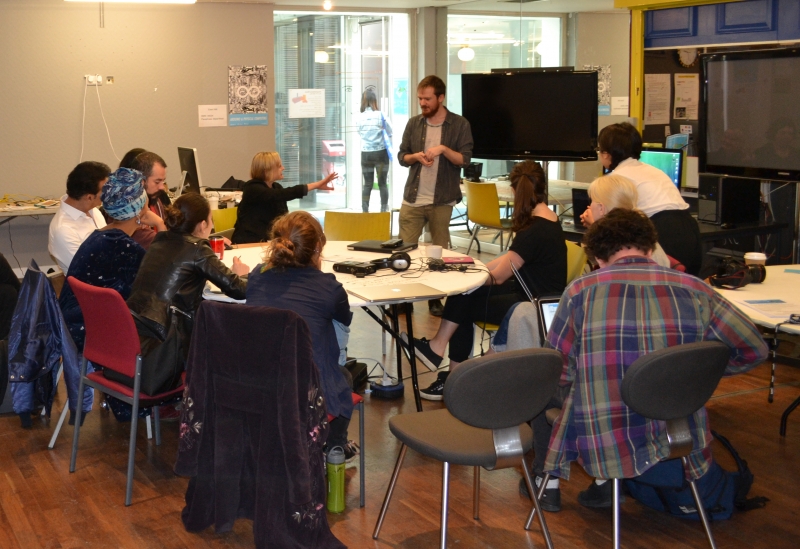 Topics discussed by the students were - Why are artists driven to use technology? What is the role of the artist with technology? Art hacking –  questioning the way of approaching technology. Social responsibility of artists using technology (artist's making efforts) What responsibility technology has? i.e. use of images   What is the border? Physical relationship with technology. The definition of gestures (using technology) The definition of objects (machines) defined by how humans use. Human relationship to the invisible technology People's engagement on technology (from different backgrounds) Technology is the medium to connect people.
We had loads of fun and thank you to all those who made it happen and who came along.
As you can see we have uncovered lots more questions than answers so are really looking forward to an exciting future with the Digital maker Collective.